Dicamba ballots thrown out, MN Brewery gets Hammered, and other legal news to ponder from Cape Law Firm
Decision 2018 – Dicamba opposition ballots thrown out
DTN recently reported that EPA's decision to renew dicamba registrations in 2018 was tainted by political influence according to Michal Freedhoff, the new Acting Assistant Administrator for EPA's Office of Chemical Safety and Pollution Prevention. That political influence resulted in senior EPA management directing their staff to limit the data they reviewed and to discount scientific information on dicamba's negative impacts. This allowed EPA to renew dicamba registrations for applications to dicamba-tolerant crops. Dicamba has been a constant fixture in agricultural news due to widespread injuries to sensitive plants and the cancellation of registrations by the 9th Circuit Court of Appeals. Last October, EPA renewed dicamba registrations for 5 years. It remains to be seen whether the news of dicamba's political pressure will cause EPA to reconsider its 2020 registration decisions.
Minnesota Brewery Gets Hammer-Schlagened
One of the coolest drinking games we've ever heard of was involved in a trademark dust-up and came away a winner. Hammer-Schlagen is a drinking game where players use the narrow end of a cross peen hammer to drive nails into a stump.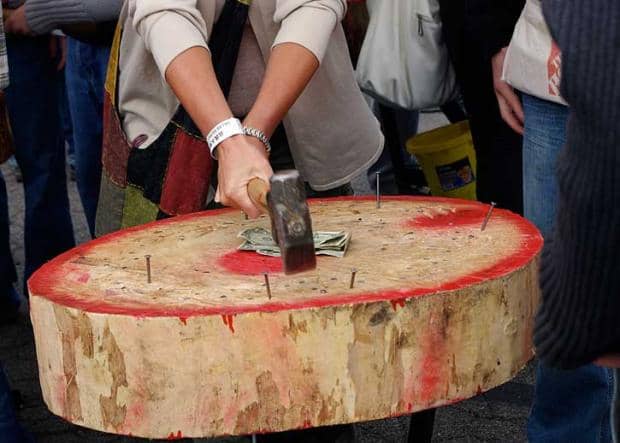 WRB, Inc., owns the Hammer-Schlagen trademark for "Entertainment services in the nature of providing persons an opportunity to participate in a game in which participants drive nails into logs." Last December WRB filed a trademark & copyright infringement suit against a Chaska, MN brewery for offering its own version of the game, which it called "Schrammerschalgen," using a pirated copy of Hammer-Schlagen's rules. The Parties settled the dispute with a permanent injunction acknowledging WRB's ownership and validity of the Hammer-Schlagen mark for nail-driving entertainment. Apparently Bavarians take their drinking games seriously – why bother with throwing a ping pong ball into a plastic cup when you can pound a 16-penny nail into a stump!?!
Cape Law Firm's Frequently (or Randomly) Asked Questions
"What are Right to Farm laws"
Right to Farm laws exist in all 50 states and protect agricultural operations from nuisance lawsuits. Common farming and ranching operations create dust, noise, odors, fumes, and the like. When urban and suburban areas grow, they often expand into rural agricultural land and the new neighbors may not be as keen on the sights and smells of a typical farm. In other words, a common farming practice might be considered a nuisance to folks moving into the area to escape the hustle and bustle of urban living. Right to Farm laws protect preexisting agricultural operations from nuisance suits brought by people that move to a rural area. Generally, the agricultural operation must predate the complaining neighbors and operate according to commonly accepted farming practices.