Dog Poop Humor, EPA's revised Risk Assessment for Dicamba
Jack Daniel's is Going to the Dogs
Famous whiskey maker Jack Daniels has been on the losing side of a long-running trademark battle with a dog chew toy manufacturer, VIP Products, over a dog toy that resembles Jack Daniel's iconic Tennessee Whiskey bottle. Jack Daniels sued VIP for trademark infringement and dilution after the company refused to stop producing and marketing a chew toy known as "Bad Spaniels" in the shape and style of Jack Daniels: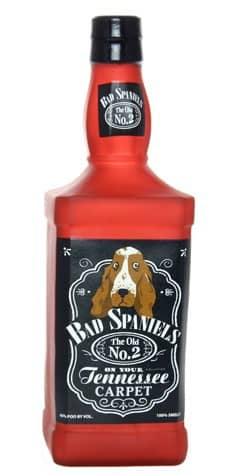 Jack Daniel's won a bench trial on its claims, but the 9th Circuit Court of Appeals reversed and held that VIP's artistic parody of Jack Daniel's marks was entitled to protection under the First Amendment freedom of expression. The Court of Appeals held that where an "expressive work" like the Bad Spaniels toy was involved, there is a higher burden to establish infringement: (i) either the defendant's use of another's trademark must not be "artistically relevant" to the defendant's work; or (ii) the defendant explicitly misleads consumers regarding the source of defendant's work. Jack Daniel's sought appeal to the U.S. Supreme Court, but was denied. Thus, the case was remanded back to the trial court which ruled in favor of VIP for noninfringement. However, the trial court encouraged Jack Daniel's to appeal again, stating "it appears nearly impossible for any trademark holder to prevail" in an infringement action when the potential infringer uses the holder's mark in an artistic expression.
Thus, Jack Daniel's is taking another stab at getting the Supreme Court to hear its case. In its petition to the Supreme Court, Jack Daniel's asks the Court to consider whether a "humorous use" of another's trademark should receive heightened First Amendment protection, as opposed to the traditional infringement test of likelihood-of-confusion. This case has garnered interest because the 9th Circuit's holding appears to make it quite difficult for a trademark owner to prevail against an artistic expression involving a mark, or as Jack Daniel's puts it, "poop humor."
---
Comment Period Opens for EPA's Updated Draft Ecological Risk Assessment for Dicamba
The EPA released a draft Ecological Risk Assessment for dicamba (and its degradates, DCSA and 6-CSA) on August 17, 2022, which was an update to its last Risk Assessment made in 2005, and to a lesser degree the Risk Assessment made in 2020. It is worth noting that a significant portion of EPA's new Risk Assessment is based on studies and assumptions submitted for the 2005 assessment, long before the registration of dicamba-tolerant crops.
The new assessment concluded that "there is a potential risk concern" for non-listed terrestrial plants, aquatic plants, birds, mammals (chronic exposure to DCSA in DT-soybean plants), and honey bees (chronic exposure of larvae to dicamba). Not surprisingly, the assessment noted a substantial increase in the number of reported incidents to non-target plants since the registration of dicamba-tolerant crops. Yet, EPA's assessment was unwilling to draw a direct correlation: "The combined evidence from field studies and incident data indicates that there may be off-site movement of dicamba via run-off, spray drift, and volatility from the use of dicamba, particularly for OTT use on DT-plants." EPA also indicated that the additional label restrictions made in 2020 to address off-target impacts had no effect on reducing incidents on non-target plants.
The assessment included a review of incident data, which EPA admitted was incomplete and contained thousands of "backlogged" reports in which review had not been completed. Before registration of dicamba-tolerant crops, there were almost 11,800 alleged incidents associated with dicamba between 1981 and 2016. "Starting in 2016 there was a pronounced annual increase in the number of incidents associated with agricultural sites and wide area damage to crops (i.e., 10's to 100's of acres for individual incidents), primarily soybean." The Agency noted that "there was a pronounced increase in the overall number of reported dicamba incidents allegedly associated with damage to non-target plants (agricultural) starting around 2016 and this increase appears linked to the commercial availability of [dicamba-tolerant]-seed and [over-the-top] applications to those crops." EPA considered that about 60% of the incidents in 2016 were due to misuse of dicamba on dicamba-tolerant crops. Although the EPA does not acknowledge it in the assessment, this is strong evidence that mere label restrictions (or even the lack of an authorized label) is routinely ignored by users.
​
The docket is open to public comment until October 17, 2022 – instructions for submissions can be found at: https://www.regulations.gov/document/EPA-HQ-OPP-2016-0223-0026